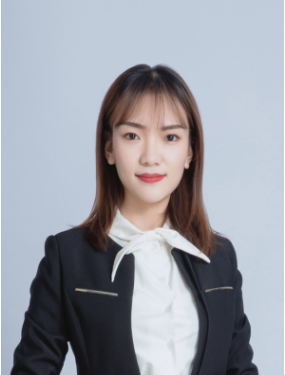 Cui Yue(Patent Attorney)
Qualification:
Cui Yue is especially good at new application writing, response to the notice of examination opinion, patent invalidation review.With a strong educational background,her technical fields cover chemistry, materials, metallurgy and other fields.
Education background:
2006.09 - 2010.06
Anhui University of Technology; Bachelor of Materials Science and Engineering
2011.09 - 2014.05
Hebei University of Technology (Project 211); Master of Materials Science
Business expertise:
new application writing, response to the notice of examination opinion, patent invalidation review.
From 2010.7 to 2011.8, engaged in metal material testing in professional material testing institutions, familiar with various material testing principles, testing methods and testing equipment;
2014.5~2015.4 engaged in professional aluminum alloy and aluminum alloy products production research and development, and has a deep understanding of aluminum alloy smelting, casting and the production and processing technology of various aluminum products;
Participated in the research of many national key projects (863 projects), military projects, international cooperation projects and provincial key projects; she has many years of research experience in the field of metal materials and has a comprehensive understanding of material performance testing, chemical composition testing and various material processing methods.
Since 2015, she has been engaged in full-time application document writing, responding to the OA, invalidation review and public comments in the field of chemistry and materials, providing high-quality intellectual property protection services for domestic and foreign customers; in 2018, she has been engaged in the guidance of patent response and writing. The cases handled involve technical fields such as analytical methods, coatings, metal materials, organic synthesis, functional materials, textiles and petrochemicals.
Some cooperative customers:
THU; NKU; TJU; HUST; China University Of Petroleum; USTB; SCU; Xi'an Jiaotong University; Institute of Applied Ecology, Chinese Academy of Sciences; Institute of Chemistry, Chinese Academy of Sciences; Agricultural Products Processing Research Institute, Chinese Academy of Tropical Agricultural Sciences and so on.