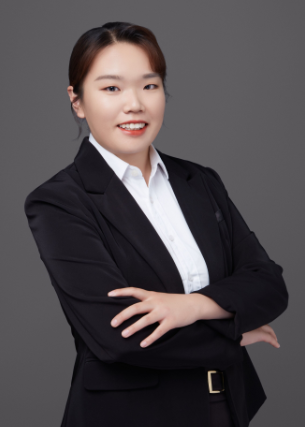 Doris Lv()
Qualification:
Qualification

:
Professional field
Chinese and international trademark ( Registration,Opposition, Review, Announcement of invalidation, Assignment and Licensing, Renewal and other trademark related services ).
Chinese and international patent (Invention, Design, Utility model) application, international patent application, patent infringement, patent invalidation, warning and analysis of cases.
Copyrights, Litigation and other relative intellectual property cases.
Professional experience
Doris has good professional ethics. She follows the principle of honesty and credibility when handling trademark affairs, and has been recognized by many companies and is willing to cooperate with her for a long time.
In more than three years of work, she has accumulated more professional knowledge and professional experience in intellectual property rights. She is good at solving complex, delicate and changeable trademark issues for clients, starting from the beginning of the plan, tracking and monitoring the current status of enterprise intellectual property rights, and customizing exclusive intellectual property protection plans for enterprises.
Social activities
Member of Intellectual Property Research Institute of China